Every thing about DABELI | Vahrehvah :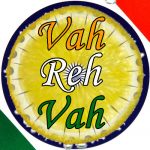 Dabeli is a very popular snack from the Gujarati cuisine and originated from the Kutch or Kachchh region of Gujarat state in India. This dish is also commonly known as Kutchi Dabeli or Kachchhi Dabeli.
Dabeli is a fantastic spicy snack made by mixing boiled potatoes with a special Dabeli Masala and putting the mixture between the Ladi pav (burger bun) and served with delicious chutneys made from tamarind, date, garlic, red chillies etc and garnished with pomegranate and roasted pea-nuts.
It is a popular Indian snack especially in parts of Gujarat and Maharashtra. Dabeli in Gujarati language literally means to be pressed or sandwiched. This dish is said to be invented by one Keshavji Gabha Chudasama alias Kesha Malam, resident of Mandvi, Kutch in decades of 1960. He had never imagined that the product would become popular one day.
When he started business he sold a Dabeli at one anna or one paisa and it is said that his shop is still there in Mandvi and business is now carried by his next generations. Dabeli thus has its origin in Mandvi, a city of the Kutch region and even today Dabeli Masala made in the city are said to be most authentic.
Today Dabeli is not only famous in the Kutch and Gujrat region but also throughout Maharashtra, parts of Andhra Pradesh, Rajasthan and many other states of India.Dabeli stalls can be found in most of the metropolitan cities like Mumbai, Pune, Delhi, Nagpur, Aurangabad, Nizamabad, Nasik, Raipur, Bilaspur, Jabalpur, Indore, Bhopal, Udaipur, Jaipur etc.
Other common names of Kutchi Dabeli are Kutchi Burger, Desi Burger or Kutchi double roti. As said earlier double roti in Hindi or Urdu means bread or bun. Other than the Dabeli, Kutch is popular for other variety of dishes like the Kutchi Samosa, Kutchi Khaja, Kutchi Pakwan and Kichchdi.Dabeli masala is the main ingredient in making of the Dabeli dish.
It is also readily available in most of the cities all over India. The Dabeli masala made by the Mandivi and Bhuj region are said to be authentic for their taste and ethnicity. It's an wonderful dry powder spice mix made from dried red chili, black pepper powder, dried coconut, salt, clove, cinnamon, coriander, cumin, turmeric, elaichi, badiyan, black salt, tej patta and other garam masalas.
Apart from the dabeli masala, chutney is also an essential part of almost all type of Chaats and they can be either made earlier or freshly prepared. Sev is another popular Indian farsan (savory) that is sprinkled mostly over the chaats to make it crispy. Sev is often used in Bhelpuri, papdi chaat, dhai sev batata puri etc.
For preparing this delicious spicy Dabeli, firstly mix both chutneys (green all purpose chutney and tamarind chutney) together till well blended and keep aside.Mix half coriander and chopped onions together and keep aside. Mix all masalas, salt, remaining coriander in the mashed potatoes.
Mix with hand till well blended and keep aside. Horizontally tear up each bun at its middle keeping one edge intact. It should open out like a book and keep aside. Take one bun and apply chutney mix liberally on both sides (inner sides). Press a ladleful of potato mixture and spread on the lower part of the bun and spread evenly.Sprinkle some pomegranate and peanuts over potato mix.
Press lightly into mixture and close the bun or pav. Press gently and butter all sides, top and bottom. Heat a heavy flat griddle or tawa and hold bun on side and press over tawa. Add a little oil and brown both side evenly. Then place flat and lightly brown top and bottom in a plate.
Serve hot with tomato ketchup and chips.Dabeli is popular known as vada pav in Bombay which is a very popular street food. It is stomach filling, appetizing and full of carbs. Dabeli hardly takes 5 to 8 minutes to prepare. A fantastic and delectable dish for all carb-love's! Spicy mashed potato filling with assorted goodies like pomegranate seeds, fried peanuts, tangy tamarind chutney, bits of chopped onion and freshly chopped coriander is a true delight to your palates.
Do try this recipe and kids will enjoy this Indian style burger.
Click on the below link for detailed recipe: