Every thing about Healthy No Added Fat - Dates and Nuts Candy | Vahrehvah :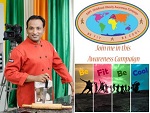 Dates and Nuts Candy without fat or sugar is an amazing and lip-smacking sweet that is truly nutritious and healthy than the other fried, sugary sweets. India is well-known for its myriad of delicious and luscious sweets that are traditionally prepared during festivals, occasions or special events.
As part the "Be Fit. Be Cool" campaign, here is a brilliant sweet candy that I wish to share with you all to encourage and inspire you all to inculcate good and wise eating habits. Dates are fleshy, oblong fruit from the date palm that is naturally sweet to taste. Dates are available in both fresh and dried form.
They are rich in dietary fiber, antioxidants and essential minerals potassium and magnesium. For all those sweet tooth lovers, eating a handful of fresh dates will pleasantly satisfy your sweet tooth and boost your intake of fiber and potassium. Dates can be used in making of delectable sweet and tangy dates chutney, halwa, kubani ka meetha etc.
Dates are high in several important minerals including potassium, manganese, magnesium and copper. They also provide significant amounts of calcium, iron, vitamin K and B vitamins, including vitamin B-6 and folate. Dry fruits are considered to rich source of nutrients and regarded as delicacies.
Generally many of us add dry fruits in special dishes during festivals and special occasions. Dry fruits are very versatile ingredients which can be used in making various savory and sweet dishes. There are several fruits that come under dry fruits category that includes: Cashews, Walnuts, Almonds, Raisins, Pistachio, Dates, Peanuts, Macadamia nuts, Hazelnut etc.
These fruits are packaged in aesthetic designs either as assorted or as a mix in different proportions and sold as gift pack in the market at good prices. They are enriched with high nutritional element and can be eaten on its own. Dry fruits have special importance during long journeys because of its high nutritive value.
Blanched Peanuts are packed peanuts which can be readily used for consumption and Redskin Groundnut Kernels have red coloured skin over it. Other food items which are made up of different type of dry fruits are Dry Fruits Ladoo, Dry Fruits Kheer and used in Christmas fruit cake etc.
Cashew nuts and peanuts are also sold as roasted nuts in various flavors like garlic, salt, pepper, chocolate, chilli, sugar and honey. Raisins are natural sweeteners and used in various food items to enhance the taste. These are processed and dehydrated from seedless grapes and the light color of the raisins is preserved with sulphur treatment.
Raisins are consumed either raw or mixed in various other preparations, e.g. Cakes, rolls, pies, or in combination with dried fruits. Dry fruits are excellent source of minerals and contain substantial quantities of essential nutrients. They are easy to digest and help keeping us healthy similar to fresh fruits.
They have strong medicinal properties. Use of Cashew nuts provides protein and fiber to body. They are rich in mono-unsaturated fat that prove helpful to prevent the heart problems. Cashews are a good source of potassium, B vitamins and folate and contain useful amounts of magnesium, phosphorous, selenium and copper.
Almond is considered very useful in both mental and physical development of human body. Unsaturated fats present in the chemical constitution of almonds gift them few good medicinal properties. Good quantities of Iron, copper, phosphorus and vitamin B1 in the Almonds help in the creation of new blood cells, haemoglobin and help in proper functioning of vital organs of the body. All nuts have various vitamins and offer various health benefits. Most nuts are rich in calcium and offer a protein boost. Here listed below are some goodness of the nuts:
Almonds: Almonds popularly known as Badam in Hindi throughout India is a very delicately flavored and versatile nut when added to any dish makes it a healthy and tasty addition to both sweet and savory dishes. Almonds are available all through the year and are the freshest in mid-summer which is when they are at the peak of their season.
In India, almonds are extensively used in Mughalai cuisine and Hyderabad recipes to make the dish rich and delicious. The badam or almond paste is the base ingredient of pasanda or qorma style curries.
Badam halwa is one of the popular and favorite sweet made from almonds adding color. Almond flakes are added to many sweets (such as sohan barfi), and are usually visible sticking to the outer surface. Almond milk is a energy giving drink and easy to make. You can also powder the almonds and store them and mix in milk whenever you wish to drink.
Usually this badam milk is served for breakfast or as a bedtime drink or at any other time when you feel like it. The badam milk powder is also used as flavoring to sweets in Kheer and burfis etc. Almonds are a very good source of vitamin E and manganese.
Almonds are a good source of magnesium, copper, riboflavin (vitamin B2), and phosphorus. Fortunately, although one-quarter cup of almonds contains about 18 grams of fat, most of it (11 grams) is heart-healthy monounsaturated fat. In Ayurveda, almond is considered a nutrient for the brain and nervous system.
Pistachios: Pistachios are used widely for culinary purposes. The fruit has a hard, whitish exterior shell. The seed has a mauvish skin and light green flesh, with a distinctive flavor. When fruit ripens the shell changes from green to an autumnal yellow/red and abruptly splits part way open which is known as dehiscence.
In India, Pista is widely used as a dry fruit in dishes like lassi, kulfi, sandesh and powdered and added in Kalakand, Doodhpeda etc. Pistachios are also finely grated and garnished over most of the sweet dishes that include Rasmalai, Shahi Tukre, Burfi, Rabdi etc. They can also be eaten on its own by just cracking them open and remove the nut.
They taste excellent when slightly roasted and salted just like peanuts. Pistachios have sweet nutty taste with favourable aroma. Baklava, a sweet pastry made of layers of "phyllo dough" filled with chopped pistachio, almonds and cashew nuts and sweetened with syrup or honey, is a popular preparation in Turkey, Iran and middle east.
Roasted and crushed nuts often sprinkled over salads, desserts, particularly sundaes and other ice cream based preparations, biscuits, sweets and cakes. Split pistachios are a great addition to salads. Popularly known as "pista", these nuts have been widely used in sweet dishes in South-East Asian countries Pistachios are a good source of copper, phosphorus, potassium, magnesium, and B6. The nuts deliver 30 vitamins, minerals, phytonutrients and contains lots of fiber.
If you are trying to boost your intake, pistachios are an excellent source of dietary fiber. Pistachios eaten in conjunction with protein-rich grains, vegetables, and fruits help you to add protein to your diet. Pistachio nuts are an excellent source of vegetable protein. The best way to add these excellent nuts into your diet is either add them to foods or add them with fresh green salad.
Chicken stir fried with nuts tastes fantastic and Persian rice and pistachio salad is a very good combination.
Walnuts: Walnuts are commonly known as Akhrot in Hindi and most of the other languages and called as Akhrod in Marathi. Walnuts are harvested in December and adding walnuts makes a delicious way to add extra nutrition, flavor and crunch to the meal.
Walnuts are a part of the tree nut family which includes the Brazil nuts, cashews, hazelnuts, macadamia nuts, pecans, pine nuts, pistachios and walnuts. Walnuts are extensively used in India especially in Jammu it is used as a Prasad (offering) to Mother Goddess Vaishnav Devi and, generally as a dry food in the season of festivals such as Diwali.The nuts are rich in oil, and are widely eaten both fresh and added to many recipes like preparing the spicy walnuts or adding to special Indian sweets like Burfi and making yummy and delicious walnut chutney and many more.
Walnut oil is expensive and consequently is used sparingly; most often in salad dressing. Not only being great in taste and flavor, walnuts are also a rich source of many nutrients. They are rich source of heart-healthy monounsaturated fats and omega-3 fatty acids. Like most nuts, they can easily be added to your healthiest way of eating or diet plan. You can just chop and add them you any of your favourite salad, vegetable dish, fruit, or dessert. Finally this sweet candy makes a healthy no fat nutritious sweet that would best substitute for various other fried sugary sweets.
Do give it to your kids instead of tempting them with chocolates. Very simple and easy to prepare, it's naturally sweet, nutty and crunchy to eat. You could always reach me at my website for more amazing nutritious and healthy recipes at: www.vahrehvah.com You could also follow this campaign to gain knowledge on some special features and advices from eminent doctors from AAPI (American Association of Physicians of Indian Origin) and also get to know of healthy recipes and diets from popular Chefs that you and your family can relish and enjoy staying fit and strong.
To follow, do click on: https://www.facebook.com/AAPIChildhoodObesity
Enjoy healthy eating and Be Fit. Be Cool!