Every thing about Easy Paneer Gravy Recipes | Vahrehvah :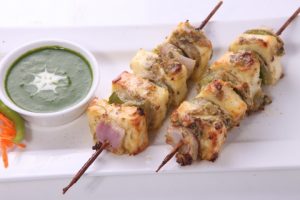 Indian Paneer Recipes
Paneer is fresh cottage cheese extensively used in Indian cuisine especially in north India. It is a homemade Indian cheese that is used in making different desserts, appetizers and main course dishes. Paneer is very versatile, soft and blends well with creamy sauces. It is usually served as an appetizer or accompaniment to a main course. It is moist and has soft crumbly texture. It is a rich source of milk protein often used in making awesome delicacies such as Sandesh, Rasgulla, Mattar paneer etc.
Paneer is slightly chewy consistency and mild flavour. It hold its shape well and doesn't melt, hence you can sauté it, grill or crumble/ grate and just do about anything to add in your dishes. Paneer also happens to be one of the easiest cheeses to make at home, requiring nothing more than milk and lemon juice.
Paneer is one of the rich source of proteins for most vegetarians and are added to classic Indian dishes like kormas, curries etc. Paneer is the most common South Asian and Persian cheese. It is basically an un-aged, acid set, non-melting farmer cheese made by curdling heated milk with lemon juice or other food acid. The texture of paneer is quite similar to the Greek feta cheese.
Paneer is one of those few types of cheese indigenous to the Indian sub-continent and widely used in Indian cuisine, Middle Eastern and Southeast Asian cuisine. Paneer is completely lacto-vegetarian and a great source of proteins to the vegans.
Chhena or Chhana is an East Indian variant of Paneer widely eaten in West Bengal, Orissa region of India and also in the neighbouring country of Bangladesh. Moist and soft crumbly in texture, it is used to make delicacies such as Sandesh, Matter paneer and Rasgulla. It is a rich source of milk protein.
The procedure of making Chhena is similar to paneer but it is not pressed for a long time. In Orissa, the process of making the cheese is same that of ricotta. The milk is boiled, curdled with a small amount of whey and then strained and beaten in cheesecloth. The cheese is kneaded well till it becomes smooth and can be used in any dessert.
Paneer is often added into making some very lip-smacking, explicit salads, snacks, and various curries/ gravies that is worthy to get a connoisseur's attention and ask for more. From a hearty paneer stuffing into a kathi roll or paneer egg roll to adding these soft cubes in delectable creamy malai gravy (Paneer Methi Malai Mirch) to salads gets bliss to our palate and delights our taste buds. Listed below are some of the exceptional and exotic easy Paneer gravy recipes:
Paneer Tikka Masala Paneer Tikka Masala is a gourmet dish which is simple to cook but very flavourful. Marinated paneer with tomato gravy makes a delightful dish for a formal dinner.
Kadai Paneer Kadai Paneer is one of the popular paneer recipe. This recipe is prepared in restaurant style. Cubed paneer combined with spicy kadhai gravy! The aroma of spices cooking in simmering tomatoes is unmistakeably signature of this dish!
Paneer Butter Masala Paneer Butter Masala is a delicious dish in which succulent cubes of Indian Cottage Cheese are cooked in thick creamy, tangy gravy.
Mattar Paneer Green peas and cottage cheese cooked in mildly spiced yellow gravy curry. This is an excellent and delicious dish that is often available in most restaurant menus.
Shahi Paneer Shahi Paneer is a rich and aromatic dish, Indian cheese cooked in almond gravy a great Mughlai cooking.
Paneer Pasanda Paneer pasanda is a dish from the Mughlai cuisine, paneer sandwiched with pleasant spices and then cooked in a delicate blend of gravy, spices, like cumin, and kasuri methi.
Paneer Methi Malai Mirch This is an amazing dish, paneer cooked with methi and shimla mirch in mildly spiced yellow gravy adorned with cream.
Paneer Pepper Butter Masala Paneer Pepper Butter Masala is a popular north Indian dish – Paneer added to spicy, colourful and flavourful pepper spiced makhani gravy.
Huzooro Wale Palak Paneer This combination of spinach and paneer is not only highly nutritious, but is a splendid blend of taste, texture and flavour. The paneer in this recipe has been fried to add some extra flavour.
Paneer Mattar Methi Malai Paneer or Indian cottage cheese cooked along with green peas and fenugreek leaves (methi) in amazing creamy mildly spiced gravy.
Paneer Makhani Butter Masala Paneer Makhani as the name suggests is a very rich subzi from the land of the Punjab. This dish is one of the most liked dish from the punjabi cuisines especially made with the most loved ingredient butter. In traditional Punjabi houses, the women folk make pure white butter from thick creamy milk. Soft paneer chunks are dunked into a rich tomato based gravy a must try for all paneer lovers!
Mattar Paneer Recipe with Yellow Curry - Peas & Cottage Cheese Mattar Paneer in Yellow curry is popularly known as Mattar Paneer Korma which is an awesome and mouth-watering dish made with peas and cottage cheese cooked in mildly spiced creamy nut gravy. The gravy is one of the most aromatic and luscious spicy, tangy and rich sauce influenced from the Mughlai cuisine. It's an excellent base of boiled nuts and fried onions ground, added to spices and enriched with yogurt and cream to make a grand creamy based sauce.
Palak Paneer Palak Paneer is an Indian gravy based curry made of spinach and paneer (a non melting Indian cheese) in a tomato and onion gravy with Indian spices. It's a very popular vegetarian delicacy. The dish looks very appetizing due to the combination of its natural green and white colors of the spinach and paneer. This dish is mildly flavored and not a very spicy curry. Normally in the state of Punjab, Palak paneer is a speciality dish in most of the dhabas. Palak paneer is served with hot Indian flat breads accompanied with a glass of Lassi.
Paneer Makhani Hariyali This is a very popular paneer recipe from the Punjabi cuisine made with succulent pieces of fresh paneer cubes cooked in smooth, luscious and creamy green gravy. The green gravy is an amazing combination of whole garam masala, green tomatoes, coriander leaves, greens for spring onions, basil leaves, kasoori methi (dried fenugreek leaves) spiced with green chillies blended together to make a smooth paste and give a vivacious green look. The addition of honey is a surprise as it complements the natural tang of the green tomatoes and balances the heat from the spices and green chillies to suit every palate.
Saag Paneer with Sour Greens Gongura Paneer Curry A paneer(cottage cheese) curry with the distinctive taste of its main ingredient gongura or sorrel leaves.
Paneer dishes tastes extremely good with pulaos, fried rice, naan, butter naan etc. I love preparing most of these recipes and also feel delighted sharing so that you would also be inspired in making these exotic and yummy paneer recipes and delight your family and friends with joy.
If at all I have not mentioned any of your favourite paneer recipes then you could always click on at: https://www.vahrehvah.com/paneer-recipes
You could always reach me at my below links: My Cooking Videos Indian Recipes Indian Food Regional Indian Cuisines VahChef Sanjay Thumma
Enjoy Cooking! Keep Smiling…