Every thing about COLESLAW | Vahrehvah :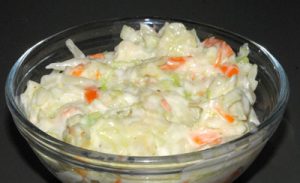 Coleslaw
, simply called
slaw
in American dialects, is a type of
salad
made of
shredded raw cabbage
and sometimes includes
shredded carrots.
It's a simple combination of
shredded cabbage, carrot
and celery mixed with home made mayonnaise. A quick and economical dish to prepare. It is often used as a quick toasted sandwich filling.
The word
"coleslaw"
arose in the
20th century
as an
Anglicization
of the
Dutch term "koolsla",
a shortening of
"koolsalade",
which means
"cabbage salad"
where
"kool"
means
cabbage
and
"sla"
means
salad.
The word entered our English language from the
Dutch
in New York in the late
1700s.
Since then it has been a featured side dish at almost every picnic or barbecue in
America.
Coleslaw is usually had with
fish, burgers, sandwiches
or
hot dogs.
You can prepare
Coleslaw
with any type of dressing you like but
shredded cabbage
is the chief ingredient. Besides the
cabbage,
most
coleslaw
come with a dressing based on mayonnaise or
vinegar
or
both,
though neither of those ingredients is mandatory. Other recipes call for yogurt and/or citrus juice in lieu of mayonnaise and/or vinegar.
Beyond the
shredded cabbage
and choice of dressing, an array of other ingredients such as
almonds, apples, grated carrots, peppers,
and even toasted ramen
noodles
can be used in
coleslaw.
Preparing the
Coleslaw
is very simple and easy. Shred the
cabbage
and
carrots
finely and keep aside. Take a bowl adds water and bring to boil. Then add the
vegetables
and dip for a minute.
Then squeeze of the water from the
cabbage
and
carrot mixture
. Place the
vegetable
in a muslin cloth and squeeze the moisture off. Put them in a bowl. Add
mayonnaise
and mix. Adjust seasoning and add
sugar
and
vinegar
and mix well. Serve with your favorite
sandwiches
or
burgers.
Kids would really love it. It's a very
healthy
and nutritious salad for the kids.
There are many variations of the recipe which include the addition of other ingredients, like
red cabbage
,
pepper, onion, grated cheese, pineapple,
or
apple.
What distinguishes
Coleslaw
from
cabbage
as a condiment is that it is mixed with a
mayonnaise. Coleslaw
also contains
buttermilk
or
mayonnaise
substitutes, and
carrot;
although many regional variations exist, and recipes incorporating prepared mustard are also common. Another variation is they use shredded raw broccoli in place of
cabbage. Coleslaw
is generally served as a side dish along with foods like the
barbecue, French fries,
and
fried chicken.
It may also be used for stuffing
sandwich
, placed on
barbecue sandwiches, hamburgers
and hot dogs along with chili and hot
mustard.
A variation of
coleslaw
made with
vinegar
and
oil
is often served with pizza in Sweden and another variation is the cheese savory popular in the North east of
England
made of
Onions
and
cheese.
Cabbage
by itself is a very nutritious
vegetable
and some benefits of lowering cholesterol if cook by steaming.
Cabbage
is an excellent source of
vitamin
K
and
vitamin
C
. It is also a very good source of fiber, manganese, folate, vitamin B6 potassium and omega-3 fatty acids. Cabbage is also a good source of thiamin (vitamin B1), riboflavin (vitamin B2), calcium, magnesium, vitamin A, and protein.
Summary: cabbage salad for sandwiches, burgers
Ingredients:
Cabbage - 1 - cup
Carrot - 1/2 - cup
celary stems - 0
mayoines - 2 - tbsp
water - 0
Instructions:
Take a bowl add water boil it then add all the vegetables just dip for 1min.
Then squees out the water cool the cabbage
add mayonnaise
adjust seasoning and add sugar and vinegar and serve with your fav sandwiches and burger
Cooking time (duration): 25
Number of servings (yield): 4
Meal type: snack
My rating: 5 stars: ★★★★★ 1 review(s)
Recipe by
Vahchef
.
So next time when your kids are partying or touring, do prepare the coleslaw sandwiches and they would really enjoy the taste and hog the sandwiches without any hesitation. Great cooking!