Every thing about PAPPU CHARU | Vahrehvah :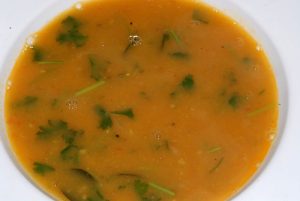 Pappu charu
is a traditional
Andhra
favorite nutritionally filled delicious and easy to cook. A mouth watering easily digestable dish that is prepared in most of the homes in
Andhra
. It is one of the most sought after a dish that is must at least for a meal everyday. A wonderful
aromatic
dish basically a tamarind lentil stew cooked with various types of
vegetables
.
Pappu charu
is redolent with the delicate flavor of curry leaves and seasoned with
Indian
spices like
cumin, mustard,
and fenugreek and ginger garlic paste. There are certain foods which have comfort written all over them and
Pappu charu
falls in the comfort food category, which when eaten with rice, makes a soothing combination. It makes a great
meat-less
main course and is cooked with
seasonal vegetables
like
ladies finger (okra), brinjal (egg plant), shallots, tomatoes, sweet potato, radish, carrot, pumpkin
and
drumsticks,
each of which gives the '
chaaru
' a distinctive flavor of its own.
In fact, left over pappu
charu
tastes even better the next day by absorbing all the wonderful flavors of the vegetables. As one savors the charu-rice combination, it releases a tangy sweet mix of flavors from the tamarind, lentils and the vegetables, that it's difficult to resist the temptation of having another serving of this earthy, hearty and filling dish. This a little similar to the
Sambar
but cooked without the sambar masala more so over it could be said it's a medley of the sambar and rasam.
Pappu Chaaru
can be prepared in many ways. Every region in
India
has recipes which are traditional and handed down over generations. These recipes are generally
basic, nutritious
and
light
on the stomach. They use a good mix of spices which not only improve appetite but also help in improving digestion. One such recipe is the
pappu charu
that is taught to the next generations by the elders.
Pappu
simply means dal and charu means
rasam
. It is somewhere between a regular
rasam/charu
and
sambar.
It contains basic ingredients like
dal
,
tomatoes
,
tamarind
, some every day spices. The important flavoring ingredient here is the ginger and garlic that render most of the flavors to the dish. Typical
Pappu chaaru
has a consistency which is not too watery or not too thick. Main ingredient is of course
tur dal
(lentil).
Distinctive flavors released out, comes from the addition of good quality jaggery and tamarind. In case of vegetables, regulars are onions and ripe tomatoes - sometimes lady's finger or drumsticks are also added along with spices. Together they are cooked to a honey consistency and the end result does have an addictive quality like honey.
It may not be as regular or as flashy like
pappu
and
sambhar
in our homes, but
pappu
chaaru
has many admirers and die-hard fans. When you get to know
pappu
chaaru
, you would immediately grasp why millions of
Andhra
households adore this darling dish. A very nutritionally balanced dish with the right flavors and nutrients added. The dish a complete blend of lentils, vegetables and spices to make it a wholesome dish served with hot rice.
Pappu charu
is a daily staple in every
Andhrite
home. To prepare this dish, here are the ingredients and method you would require to make this
dal
and
rasam
combination: Boil the dal well mash and keep aside. Take a pan or
vessel
,
add oil, mustard seeds, cumin seeds, dry red chillies.
When they crackle add chopped onions, asafoetida, turmeric powder, curry leaves, slit green chillies,
ginger garlic paste
and saute all the ingredients well till the raw flavors are gone. Add chopped tomatoes mix well and cook till they are soft. Add tamarind juice, chilli powder, salt and cook till it comes to boil then add some water and allow to boil again for about 10 mins.
Now add the mashed dal and mix well, add little sugar or jaggery, ghee and cook for another 5 mins. Finally garnish with coriander leaves. The
pappu charu
is ready to eat with hot rice.
Do prepare this nutritious dish. To prepare a perfect dish firstly we need to see or experience it, hence to watch the making of this dish click at:
https://www.vahrehvah.com/pappu-charu
Pappu Charu
Author :
Published On : May 23, 2009
Recipe Type : Veg-Main
Standing Time : 5-8 mins
Ingredient : Dall
Recipe of
Ingredient Name
Unit
Quantity
coriander leaves

---

springs

---

2

---

cumin seedsq

---

tsp

---

1

---

curry leaves

---

springs

---

1

---

ghee

---

tsp

---

1

---

ginger garli paste

---

tsp

---

1.2

---

green chilli

---

number

---

4

---

hing

---

pinch

---

pinch

---

Mustard seed

---

tsp

---

1

---

oil

---

tbsp

---

1

---

onions

---

cup

---

1

---

red chilli dry

---

number

---

3

---

salt

---

0

---

as needed

---

sugar

---

tsp

---

1

---

Tamarind juice

---

cup

---

2

---

tomato

---

number

---

1

---

Toor dal cooked

---

cup

---

1

---

Turermic powder

---

pinch

---

pinch

---
Boil Dal and mash keep it a side. Take pan add oil,mustard seeds,cumin seeds,red chillis dry, onions,hing,turmuric,curry leaves,green chillies,ginger garlic paste,tomatos mix well and now add tamarind juice,chilli powder,salt cook till it comes to boil then add some more water as need let it come to boil again. Now add boiled dal and mix well,now add sugar,ghee and cook for 5 min.