Every thing about Popular Indian Rice Dishes Vegetarian | Vahrehvah :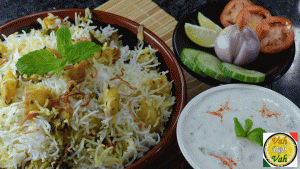 Best rice dishes Rice is one of the most popular foods eaten by most of us. It is also an important staple food that is widely consumed in Asia. Rice is a nutritious food and an important healthy diet that contains more than 15 vitamins and minerals that help protect us against diseases and ensure healthy growth.
It has been estimated that half the world's population subsists wholly or partially on rice where ninety percent of the world's crop is grown and consumed in Asia. There are umpteen rice varieties that are cultivated and used in preparing an array of classic, appetizing and exotic rice recipes.
Rice is a versatile ingredient that is easy to cook, can be made as a main dish, side dish, dessert or added into making some mouth-melting, yummy snacks to complete an appetizing and scrumptious meal! Eating fresh, home- made food is one of the most important element in having a nutritious and healthy meal.
Here I would like to encourage all food lovers' in making some of the top rice varieties that is most popular in Indian cuisine. Indian cuisine has umpteen selection of exotic and exceptional rice preparations made with an array of aromatic and flavorful Indian spices that offers a varied number of simple to elaborate rice dishes to serve in a simple everyday meal to a festival spread delicacy.
Rice preparation can be categorized into various sections, for example Biryani & Rice recipes, Pulao recipes, South Indian Rice recipes, Rice varieties, Vegetable rice recipes or easy Indian rice recipes and so on. The popular rice recipes vegetarian from the Indian cuisine are:
Puliyodarai – Tamarind Rice Tamarind rice also popularly known as Pulihora or Puliyodhara or Chitrannam is a common rice preparation in South Indian cuisine. The tamarind rice or pulihora tastes sour, spicy hot and salty all at the same time.
Chitrannam – Lemon Rice Chitrannam is a very popular south Indian rice preparation that is usually prepared during festivals, religious rituals or any special occasion! This rice dish is flavored with lemon juice and seasoned with an amazing tempering mix of mustard, cumin seeds, fresh herbs like curry leaves and coriander leaves, crunchiness from urad and chana dal, heat from the green and red chillies.
Bisi Bele Bath – Sambhar Sadam This is a classic and signature dish from the state of Karnataka made with the combination of rice, tur dal (lentils), assorted vegetables, freshly ground spices all mixed and cooked together. It is a very nutritious and healthy dish. Spices like the nutmeg, asafetida, curry leaves and tamarind pulp contribute to the unique flavors and taste in this dish. This is also commonly known as Sambhar Sadam.
Coconut Rice Coconut rice is found in many cultures throughout the world from the Caribbean to south East Asia. In the state of Tamil Nadu, India, coconut rice is very famous, is made with fresh coconut flakes (grated). One way to make this dish is to make the rice separately (preferably using a rice variety which is light and fluffy when cooked) and then mixing it with the coconut mixture (coconut flakes toasted in sesame/coconut oil and spiced with paprika, nuts, curry powder/leaves and other spices).
Jeera Rice Jeera rice is simple and warm flavorful rice especially available in most of the dhabas. This dish is a very popular dhaba food. Basmati rice flavored with toasted cumin seeds in butter/ ghee along with onions and chillies is an instant dish with simple spiced and aromatic earthy rice bursting with full of flavor. The use of ghee / butter for cooking as toasting cumin seeds in butter enhances the strong aroma of Cumin. The aroma is truly tempting and luscious. Jeera rice is an exceptionally versatile and healthy dish which becomes a complete meal by itself too.
Mango rice Mango/ kairee (green mango) rice is a classic dish made of fluffy rice, freshly grated raw mango and spices to give a nice tangy and flavourful savour to the rice preparation.
Ven Pongal – South Indian Ghee Khichdi Ven Pongal is a savoury dish having a pleasing buttery texture cooked together with rice and dal until very soft, mixed with spices and topped with cashew nuts. It is a superb, nurturing and comfort breakfast dish. Ven Pongal is prepared with rice and moong dal cooked with spices and ghee that taste truly awesome with coconut chutney. The best combination with this dish is Medu Vada with coconut chutney.
Sesame Seed Rice – Til Rice Sesame seed rice or Til rice is amazing rice preparation made with rice added to a flavourful spicy sesame seeds and spices mixed together to make the rice delicious and appetizing.
Tomato Rice or Tomato Bhath Tomato rice is a very simple, quick and easy rice variety to make with a blend of cooked rice, tomatoes and Indian spices. Tomato rice is a very popular dish, especially in the south India.
Alu Gobi Ki Tahari – Aromatic Vegetable Rice Aloo Gobi Ki Tahari is a one pot scrumptious meal; vegetables cooked with rice. An amazing dish, simple to prepare and a reliever dish that saves time, fuel and cleans up all in a breeze. Tahari is a complete wholesome, balanced and nutritious meal for the whole family which is often cooked in most Hyderabadi homes. This rice preparation tastes good with curd or raita.
Hyderabadi Khichadi An excellent simple yet delicious rice and lentil preparations adding few spices to taste good! This Hyderabadi Khichadi is made with rice and masoor dal or red lentil, often served with a Khatta chutney.
Lentil Fried Rice Lentil fried rice is an awesome rice preparation made with rice and whole toor dal with skin on and cooked until done and flavourful.
Curry leaves rice Curry leaves (karvepaku), tamarind (Chintha pandu), whole red chillies (endu mirchi), freshly grated coconut (pachi kobbari thurumu), dry fruits any Oil + Ghee, rice mixed well together.
Capsicum Masala Rice This fast and flavorful dish is a simple recipe, quick and easy-to-make and so tasty! Capsicum and roasted peanuts gives crunchy taste! Capsicum masala rice is made of a mixture of roasted spices and peanuts for spiciness and nuttiness with various colors of bell peppers added to make it very colourful.
VEGETABLE BIRYANI Mumbai Wedding Style Vegetable Biryani is an exotic, aromatic rich Indian Mughlai pulao dish layered with rice, vegetable masala mix and nuts. Vegetable Biryani Mumbai Wedding Style Recipe is different from other biryani's by giving some tadka with onion paste instead of fried onions and adding nut paste that gives an exotic taste and to this biryani.
tomato rice recipe,jeera rice recipe,puffed rice recipe,rice varieties.tamarind,sesame seeds,Lemon Rice, Coconut, Mango,Hyderabadi veg birayani recipe,Curd Rice,Sakkarai Ponga,vegetable biryani,Dalimbi Bhat .Dalimbi Bhat is a traditional, very delicious Maharashtrian delicacy mad with field beans, rice and spices cooked together. This is often prepared for special occasions. The richness of aromatic spices like Goda masala fom the Maharashtrian cuisine gives this rice preparation exotic taste that would tickle your taste buds craving for more.
Vagareli Kichidi Vaghareli Khichdi or Seasoned Khichdi is variant of Gujarati Khichdi. It is delicious and simple daily meal tempered rice and lentil cooked together in most Gujarat households.
Qubooli Lentil Biryani Qubooli is an Urdu word meaning 'acceptance'. It's an good and flavourful combination of lentil , rice and spices the preparation is most like biryani .
Spicy Sambar Fried Rice This is a good innovative dish made up of left over rice tossed with some tadka and added with sambar powder. This recipe should be tried by everyone.
Curd Rice Curd rice or Yogurt rice is a simple delicacy made in South India. Cooked rice is combined with curd or yoghurt and then seasoned with chilly, curry leaves, ginger, urad dal, mustard seeds, Channa dal and hing.
Apart from rice being used in most of these savory dishes, it is also added into making some of the most exotic sweet desserts that includes
Sakkarai Pongal – Sweet Pongal A yummy and luscious dessert made of rice, jaggery and milk. Sakkarai Pongal is a sweet and buttery porridge-like dish that is traditionally prepared in South India for the Makar Sankranti. Sweetened rice cooked with mix of sugar/jaggery, coconut pieces or moong dal.
Pineapple Zarda Pulao Pineapple Zarda Pulao also known as Zafrani Pulao, is a Indian sweet rice preparation using pineapple pieces or canned pineapple, which is diced and added to the pulao.
And so on….. You could also find many more amazing, awesome and super delicious rice recipes at: www.vahrehvah.com.
You could always reach me at my below links:
My Cooking Videos Indian Recipes Indian Food Regional Indian Cuisines VahChef Sanjay Thumma
Enjoy Cooking! Keep Smiling…