Every thing about veg manchurian recipe, gobi manchurian, chickenmanchurian,gobi manchurian recipe. :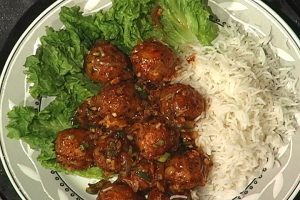 Vegetable Manchurian
is a popular combination of the Indian and Chinese cuisines made into a wet (with
gravy
) or
dry dish.
This dish is actually not that very spicy but can be altered to suit your taste. It is an exotic dish made of mixed vegetable steamed formed into dumplings deep
fried
and cooked in a tangy
sauce.
Manchurian
is normally eaten as an evening
snack
, appetizer accompanied with
noodles
,
steamed rice
. It is best when served hot.
Indo Chinese cuisine
is something that everyone adores especially the dishes like the various types of noodles, manchurian or
fried rice
are always superb and unique.
The flavors and ingredients used are exceptional and exotic to taste! The
vegetable Manchurian
is a regular weekend treat for most of kids and youngsters too. Usually among many there is a notion that the procedure of making this
dish
is laborious and time consuming but actually it isn't that.
If planned well, nothing would be time consuming. Preparing the dish at home is more healthy,
nutritious
and worth an effort. Indo
Chinese
cuisine is the adaptation of Chinese seasoning and cooking
techniques
as per Indian tastes. This fusion cuisine has said to have developed by a small local Chinese community settled in Kolkata, India over century. The popularity of the cuisine spread widely into major metropolitan cities that include cities like Bangalore, Mumbai, New Delhi,
Hyderabad
and
Chennai
.
It has become trendy even in the cities like Goa as there is a large Chinese and Tibetan population. The cuisine is believed to have originated from the Chinese of Calcutta and Chinese food is still popular there. At present, the Chinese population in Calcutta stands at approximately 20,000.
Most of these people are of Hakka origin; however, the dishes of modern Indian Chinese cuisine, such as
Chicken
Manchurian, bear little resemblance to traditional Chinese cuisine. The Indo Chinese cuisine is very similar in taste to many
ethnic dishes
of South east Asian countries like
Singapore
and Malaysia as the have strong Chinese and Indian cultural influences. Non staple dishes are generally served with generous helpings of gravy or either served dry or without gravy.
As with
Indian cooking
, Chinese cooking is provincial and the staple is rice. Some regions use more spices than others, and the types of dishes vary. But when Indians went to
Chinese restaurants
in India, they were looking for
spicy
Chinese food.
What emerged was a cuisine that merged Indian spices, which suited the local tastes, with classic Chinese recipes and cooking techniques.
In addition, dishes evolved that suited the large Indian
vegetarian population
. And so Indian-Chinese food -- Indian spices and seasonings overlaid with Chinese techniques -- was added to the other culinary traditions. Some popular dishes include dumplings in a hot,
sweet
, and sour
sauce
; Chinese
fried rice
, a spicier and more Indian-like version of the classic dish; chili
cauliflower
, marinated in hot peppers and garlic and deep-fried; and Hakka
noodles
.
The vegan variety is still rich in flavor, but light. The vegetarian
Manchurian
has been always a favorite to all and the word Manchurian is almost synonymous to the cuisine. Here's the recipe for this exotic enticing dish. In a food processor grate all the vegetables like the
carrots
, green beans,
cabbage
, cauliflower and bell peppers. If you do not have the food processor you can also finely grate them. Add all the veggies to a pot of boiling water for about 3 to 5 mins. As the
veggies
are already finely grated, just cook them in enough water to make them soft.
This step helps to make really smooth balls. Drain the veggies on a towel or colander, squeeze out all the water from the veggies and save the water. This is good veggie stock and we can use this water to make the Manchurian sauce.
To the vegetables, add cornflour, soya sauce, chilli garlic sauce, salt, green chillies, ajinomoto, chopped ginger and garlic. Mix up the entire ingredients well. Now add a cup of boiled rice to the vegetable mixture as this helps in binding the veggies together so it doesn't break while frying.
Instead of rice, you can also use an
egg
if you prefer. Make small balls of this mixture.
Deep fry
it in oil until they are golden brown and keep aside. Now for the
gravy
, chop ginger, garlic, green chillies, spring onions and onions finely. In a pan,
fry ginger
, garlic, green chillies. Add the onions, spring onions and sauté for a min.
To this add soya sauce, chilli garlic paste, ajinomoto, sweet sauce, salt and pepper. Dissolve a little bit of corn flour in water and add it to this. Then add the
vegetable
stock and let it all boil for a few mins until the sauce thickens. Keep aside.Just before serving, add the fried dumplings into the sauce and sauté for few mins. Serve hot. The
Indo-Chinese
fusion is one craze that exists to date where Indians enjoy an encore of dishes.
Among such recipes, Vegetable Manchurian is one such gem. Vegetable balls deep fried and served in gravy accompanied by fried rice or noodles. Perfect! Enjoy them guilt free – your family and your health will thank you for it. Like I say often enough, vibrant looking dishes not only are pleasing to the eye and palate but also nutrition wise when prepared at home. So go ahead and use whatever
vegetables
you have on hand. If you are not making at home then you are actually missing one of the exquisite and flavorful dish. Do give it a try and you will find yourself preparing it often for your kids and family. For best results on making a perfect vegetable manchurian, watch the making at:
https://www.vahrehvah.com/Veg-Manchurian:3266
Veg-Manchurian

Author :
Published On : Mar 6, 2008
Preparation Time:

7 min

Recipe Type : Veg-Main
Cooking Time :

25 min

Standing Time : 5-8 mins
Yield :

4 (4 servings)

Ingredient : Mix Vegetable

Description : mix vegetable dumpling cooked in Indo Chinese style
Ingredient Name
Unit
Quantity
ajinamoto

---

tsp

---

1

---

beans

---

grams

---

30

---

boiled rice

---

cup

---

1

---

cabbage

---

grams

---

100

---

capsicum pepper

---

number

---

2

---

carrots

---

grams

---

150

---

cauliflower

---

grams

---

50

---

celery

---

piece

---

2

---

chilli paste

---

tbsp

---

3

---

choppe gr chillies

---

piece

---

3

---

chopped garlic

---

grams

---

30

---

corn flour

---

tbsp

---

3

---

ginger

---

large

---

1

---

oil

---

to fry

---

1

---

onion

---

number

---

2

---

pepper pdr

---

tsp

---

2

---

salt

---

to taste

---

1

---

seasame oil

---

tbsp

---

2

---

soya sauce

---

tbsp

---

4

---

spring onion

---

springs

---

1

---

sugar

---

tsp

---

1

---

sweet and sour sauce

---

tbsp

---

3

---

Boil /steam finely chopped minced vegetables and bind with some corn flour and rice with all shown spices and make small lumps the size of a ping pong ball. roll in corn flour and deep fry make sauce as shown add cumin ,2 tbsp chopped garlic ,1 tbs chopped ginger and chopped onion add soya sauce,pepper,chilli paste,spring onion ,ajinamot sweet sauce or sugar stock and cook thicken with cornflour mixture adding very little at a time add fried dumpling or cauliflower Serve hot with noodles or rice.